BUILD IT YOURSELF AND SEE IT FLY!!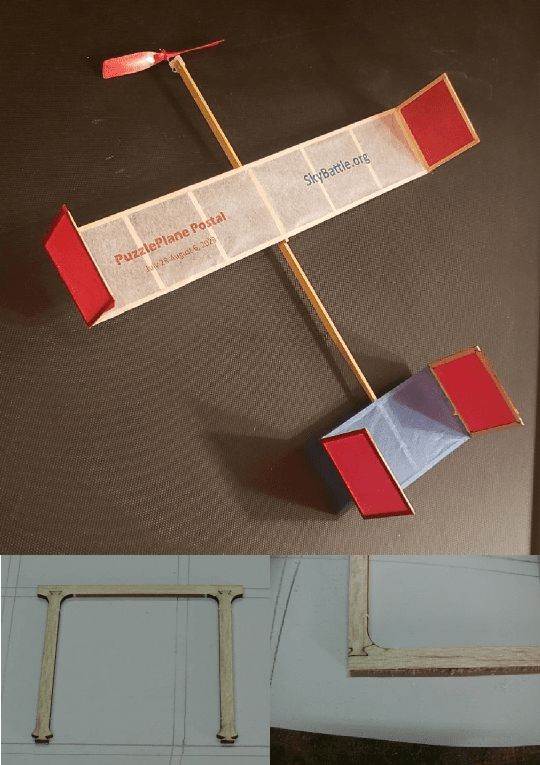 THE SKYBATTLE 2023 ONE DESIGN MODEL, BILL WATSON'S PUZZLE PLANE,IS AVAILABLE!

THE BEANBURG D1, BOSTONIAN, IS A REGULAR PRODUCTION KIT AGAIN!

I WILL STILL SHIP ALL DOMESTIC KIT ORDERS USING PRIORITY MAIL AT THE FIRST CLASS PACKAGE RATE.

I HAVE RUN OUT OF THE 7" NORTH PACIFIC PROPS THAT WERE SUPPLIED WITH SOME OF MY KITS AND HAVE NOT BEEN ABLE TO SOURCE MORE OF THEM. ALL KITS FORMERLY SUPPLIED WITH A NORTH PACIFIC PROP WILL NOW BE SUPPLIED WITH A 7" PECK PROP.

Our product is a line of laser cut, balsa wood, flying model airplane kits. The scale models represent some aircraft that are not frequently modeled today. The simplified models and some of the NoCals are suitable for beginners while others are meant for intermediate to advanced model builders.

They come in five varieties, NoCal profile models, Giant NoCal, 1:16 scale full bodied models, Bostonians, Embryos and Simplified models. Keep an eye on us for new kit releases.

THE "SIGN UP FOR OUR NEWSLETTER" FUNCTION AT THE BOTTOM OF THIS PAGE IS NOW WORKING!

I want to thank the customers who have emailed me about errors that they have found in the parts sheets or plans of my kits. I constantly try to improve the kits even the ones that have been in production for years.

If you have an AMA number, or any other national model aircraft organization identification number, and you order pre-printed tissue skins for the SIMPLIFIED MODELS, including the Skinny Bomber, BOSTONIANS, or EMBRYOS your number can be printed on the upper wing surface when the skins are printed Just include the number in the comments section of your order.

PLEASE, READ THE NOTES, NOTICES AND TIPS SECTION. ANY PLAN CORRECTIONS OR OTHER NOTICES REGARDING THE KITS ARE POSTED THERE.

ALL DOMESTIC ORDERS OVER $75 WILL STILL SHIP FREE.